GOLD Jewelry is one of my 3 blog features for gift-givers that I posted last December; the main gist is: "Gold Jewelry is a lasting gift of love to be treasured, a lasting gift of beauty to be enjoyed and a gift of increasing value…"  This year, I am excited to share information about GOLD COINS, because the Christmas Gold Rush is on! I have been told (by a Wall Street commodities guy) that Gold Coins are the BEST way to buy Gold.  So, I scheduled a visit with my jewelry friends at WIDEBAND to see what they do with Gold Coins. I think it is best to keep our assets close!  BTW: I am wearing THREE COINS NEAR THE FOUNTAIN at the Rockefeller Center Ice Skating Rink …and all my three wishes included NOT FALLING!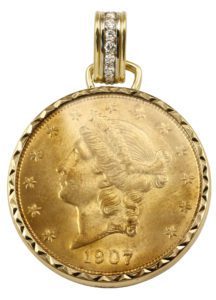 Around my neck is a US Antique $20 Gold Piece with a Diamond bail. The two additional Gold Coins are in my ears….WATERFALL Earrings of  Amethyst, Pearls and new US $5 coins.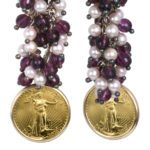 WALDORF ASTORIA
HOTEL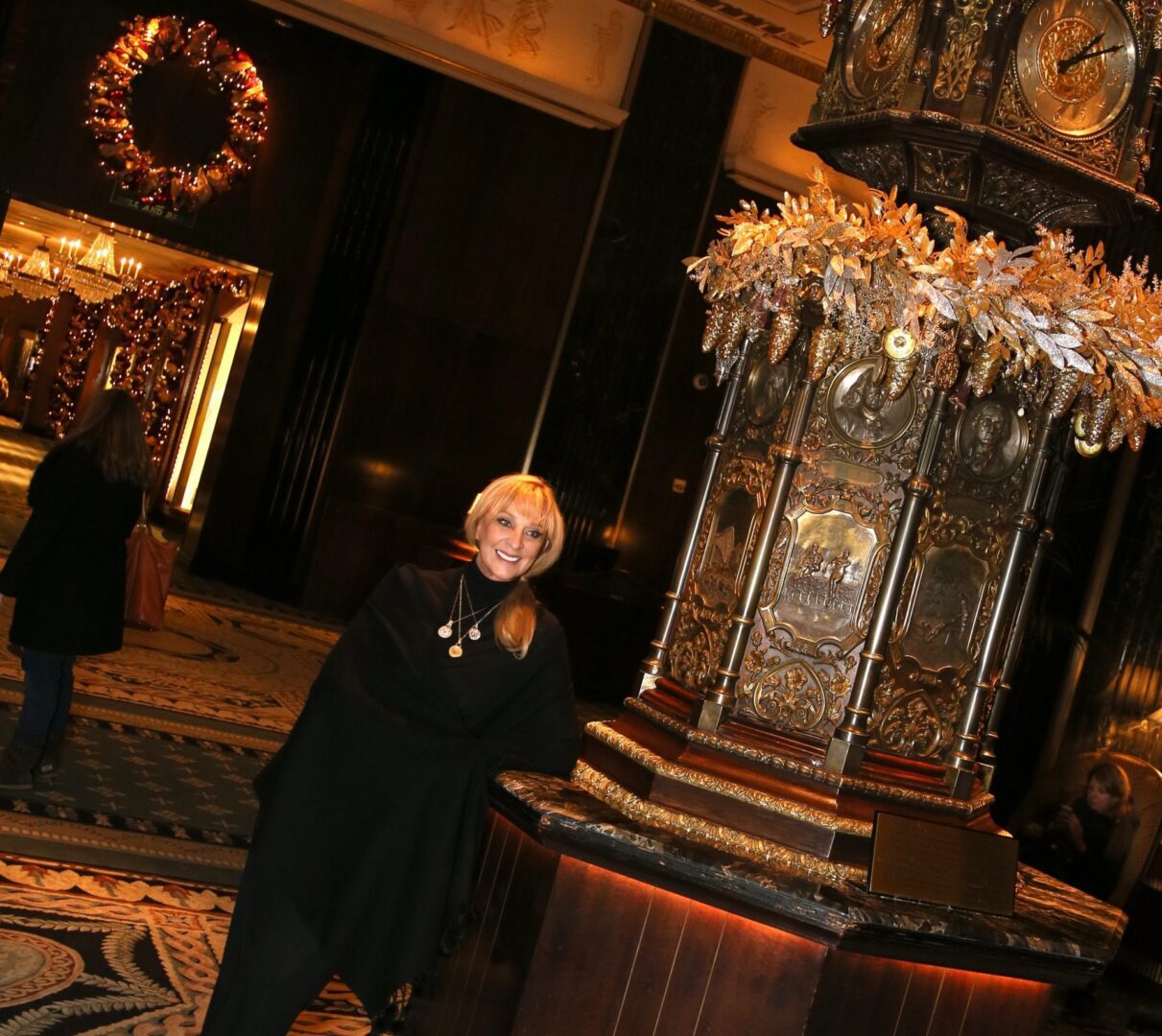 From the GILT Prometheus at RockCenter to the Gilt Clock at the Waldorf  …this  day is good as gold. The Waldorf epitomizes luxurious, elegant and  iconic NY!  The clock is located in the center of the lobby and it is my traditional meet-up spot.  Still wearing 3 coins (now around my neck) I was thinking about 3 NEW wishes. After all, I was granted my first three wishes; I had fun on the ice and I did NOT fall and break any bones. So, with these three coins, I wished for a Holiday filled with LOVE, LAUGHTER  &  SPARKLE… for all of you!  Oh, and the lucky gold coins? Well, I love how these coin pendants have beautiful diamond encasings that the make the pendants  reversible. One side of these pendants showcases the Gold Coin, while the other showcases intricate diamond designs that allow the coins to peak through. More specifically they are:
"Garden", a diamondback reversible pendant with British Sovereign, St George slaying the dragon
 "Love", a Diamondback with  hearts and an antique US $10 gold piece.
Eventually, I made my way to the Waldorf restaurant, Bull & Bear. I relaxed near a window where I could watch the snow falling.    Of course, I wore some ice for the occasion; 1.74 Carats of Diamonds surrounded an antique US $20 Coin. The designer, Richard Korwin refers to it as the  Grand Diamond Cushion Coin Pendant.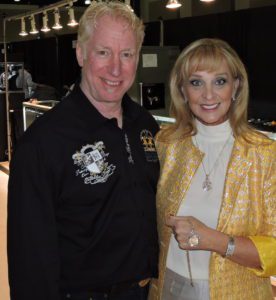 If you follow me on Facebook, you probably saw me with Richard at the Palm Beach Jewelry, Art & Antique Show in November. (NOTE: Richard's Dad, Irving Korwin is 94 years young, retired, dances and enjoys life in Palm Beach.) Together, Richard and his Dad created thousands of designs for gold, ancient and modern coins for 60+ years. More recently, Richard has personally earned numerous design awards. He is a gemologist, a patent holder and a life member of the American Numismatic Association. Do let me know if you would like to meet Richard.  Perhaps you already have gold coins vaulted away… if so, think about keeping one of them a little closer.